India Real Food Adventure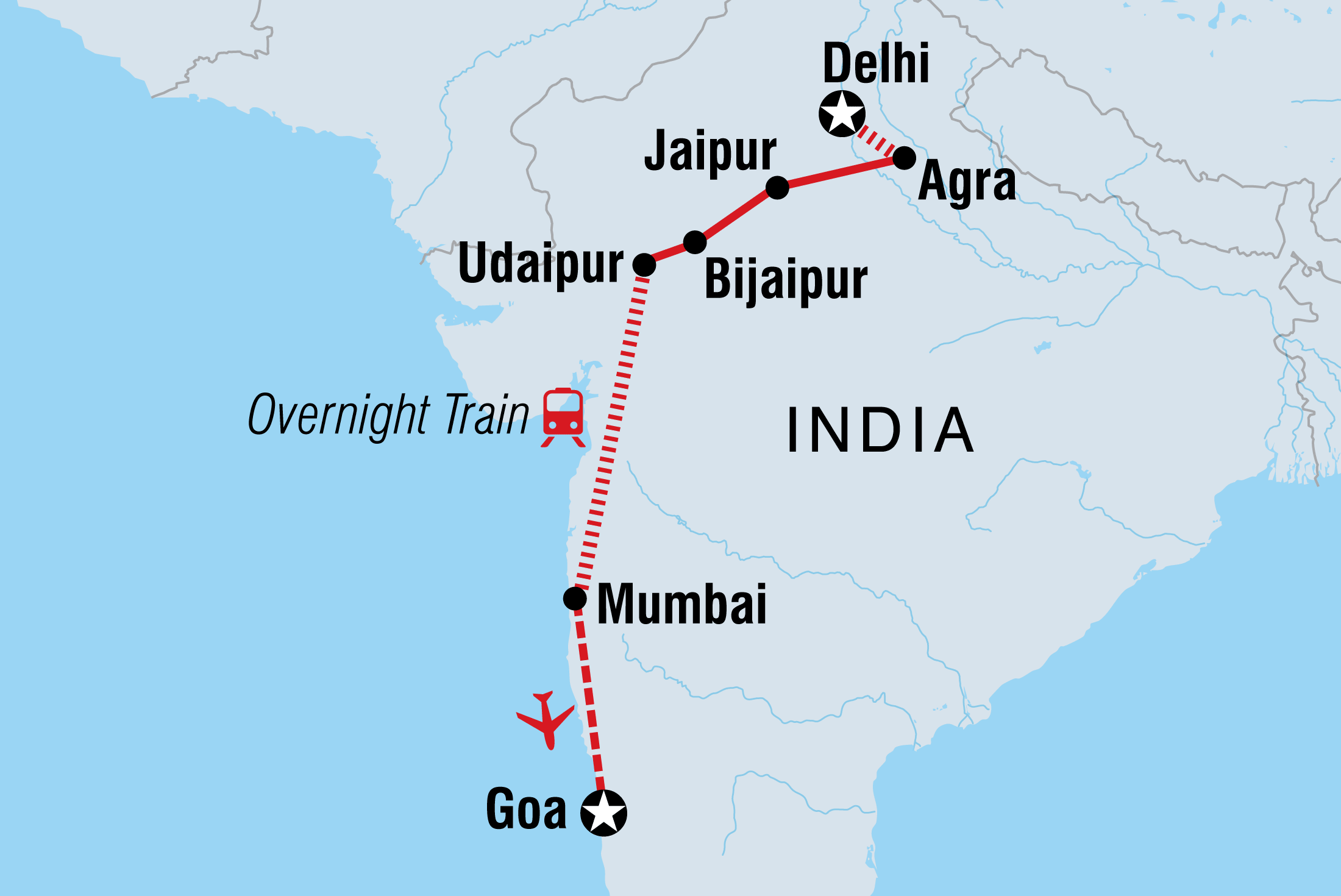 India Real Food Adventure
Spend two fabulous weeks discovering the sights, sounds and flavours of India. From Delhi to Goa via the ethereal beauty of Rajasthan and to the bustling metropolis of Mumbai, experience the very best street food in Delhi, the beautiful sight of the Taj Mahal in Agra and the delightful taste of Rajasthan's traditional cuisine in Jaipur and Udaipur. Relax on Goa's beaches, see Jaipur's breathtaking Palace of the Wind, explore the vibrant street food scene of Mumbai and spend time in rural Rajasthan living it up in a 17th-century fort. With a taste of India's vibrant markets and the chance to cook up a storm yourself, this unforgettable journey will take you to the cultural and gastronomic heart of India.
Activities
Real Food Adventure Welcome Dinner
Delhi - Leader-led Old Delhi walking & rickshaw tour
Delhi - Street Food Breakfast
Delhi - Jama Masjid
Delhi - Lunch at a Sikh Temple
Agra - Taj Mahal
Agra - Mughlai Cooking Demonstration
Jaipur - Amber Fort
Jaipur - traditional Kachori lunch
Jaipur - Rajasthani Cooking Class and Dinner
Bijaipur - Leader-led village tour
Castle Bijaipur - Rajasthani Desert Cooking Demonstration and Dinner
Udaipur - City Palace
Udaipur - Thali Cooking Class
Mumbai - Chowpatty Beach Street Food Crawl
Goa - Spice farm tour including lunch
Goa - Goan Market Tour and Cooking Class
Highlights
Get a true taste of some of India's finest culinary traditions – Mughal, Rajasthani, and the Portuguese-tinged flavours of Goa – while feasting in local restaurants, rural homes and heritage buildings.
Some of India's best food is found at a street side stall. Get in touch with an amazing array of authentic food on eye-opening and adventurous cuisine crawls around Delhi, Udaipur and Mumbai.
Bask in the ivory glow of the iconic Taj Mahal in Agra, followed by a Mughlai cooking demonstration and lunch in a local home with your small group.
Take a day to visit local farming communities in Rajasthan's Mewar region, visiting working vegetable and spice farms to learning about these coveted building blocks of Indian cuisine.
See the rich tapestry of India's culture and history on display, passing by the Hindu and Jain influences in Udaipur, chai wallahs in local markets, and staying at a heritage property in Bijaipur.